Two years have passed since the official soft launch of Leankoala. Looking back at this incredible ride and into the future of our tech startup, Steffie shares her very personal yet universal reasons that almost prevented her from co-founding the company.
As a child of a family business Steffie was not keen on starting her own business, let alone a tech startup and least favourable with her husband. By now Steffie is not only one of the still few female founders in tech but also a rare breed of a new generation of family entrepreneurs. 
Being a 30-something mother of two you're not exactly what the startup world seems to be looking for – and yet, you are exactly what it needs! Here's her list of 8 reasons why you should not start your tech family business – and do it anyway!
1. I am a woman
Let's not kid ourselves. The startup ecosystem and especially the tech businesses are a male domain. Statistics prove you will receive less funding and less respect being a woman, lowering your chances of succeeding as a female founder in tech.
But in reality, being a woman has helped us grow Leankoala to where it is now. Although Nils is the established tech personality, people have explicitly asked for me on stages or kept me in mind instead of him. And thanks to the prevailing gender biases men mostly don't regard me as a personal or professional threat, a fact that has enabled us to access valuable new support networks more easily.  Eventually, thanks to countless great initiatives to promote women in tech I turned out to be less of a hazard than a key to success.
Yes, I am being used as a token woman in a lot of instances, but I happily seize all those occasions to increase the visibility of women in tech and to raise Leankoala's profile.
2. I am a mom
That awkward silence. You might make it as a woman, but as a mom? How would you be able to devote your full attention and resources to growing your startup? Most people don't want (or dare) to be openly hostile against mom entrepreneurs but authority and credit are usually not granted beyond those typical "mom things". Great, you're starting your sustainable kids' clothing brand/mom blog/self-made toys business to leverage your "mom-ness" and create something meaningful while you're raising your kids! But are you sure you want to start a tech startup while being a mom of a 5- and an 8-year-old?
Yes, I was sure! First of all, most kids also have a father or second parent which should be equally involved in child care and family work. Secondly, organizing your work with a busy family life is feasible and less impossible than most people would think. Most importantly, don't fall into the guilt-shaming trap that suggests you have to handle everything by yourself. Ask for help and delegate tasks to professional helpers (from delivery services to babysitters) and involve your kids in your business life. Whenever we get the chance we're taking the kids to events (thanks to any event with child care provisions, you rock!) and if they're interested let them watch us on stage or be present during casual network business meetings. We're very fortunate to enjoy geat support from our family, friends and professional helpers and a growing family-friendly business mindset.
After all, being an entrepreneur has granted me much more flexibility to integrate family life with work and the kids are simply the most rewarding and priceless grounding experience that no mindfulness retreat could compensate.
3. I founded with my husband
Strange enough to be founding a company as a mother, but together with your husband? The reactions from co-workers, friends, mentors and investors to the news of me and Nils starting up together have been apprehensive at most. Investors worry about relationship issues distracting us from focusing on our business, friends fret about our marriage going down the drain if our business fails. Some mentors have even advised us not to disclose our marriage to possible investors.
The truth is, it's damn hard work. Just like any other relationship between founders is. So many companies break up because of personal dissonances between leaders and/or owners. I'd argue that family businesses are even more stable in that respect as it's never just about us but our whole family. So we'll invest any energy necessary to make Leankoala work financially and emotionally for our family. And at the end of the day, Nils is the most reliable and trusting partner I could think of.
It took us a while to figure out how to best work and live together. My main advice to anyone founding with their partner: Create separate playing fields and responsibilities, grant equal veto rights and discuss how you can separate your private and business selves. It's stressful and exhausting at first, but the reward is great.
4. I am over 30
I had a decent job before I co-founded Leankoala, my family expenses are higher than a 20-year-old's and I have also been used to having teams do a lot of operational and administrative tasks. So going back to doing everything yourself, bootstrapping a startup and jeopardizing your financial security and cutting back on lifestyle seems like a huge step back at first.
Sure, there's always a risk but we managed to make it work in a more secure mode. We started Leankoala as a side business with paying customers on board from the beginning. We also managed to get a ramp-up grant by the IFB Hamburg which enabled both of us to start working for the company full-time and by now our recurring revenues have grown Leankoala into a sustainable business and we're looking into investment options to grow at a larger scale. I guess being well beyond our mid-thirties has also added a seriousness and commitment to our founding efforts that is also widely appreciated by investors and mentors. We might not be able to operate 24/7 and with an all-or-nothing risk attitude but we also know what we're doing and are determined to generating business value.
5. I need and want free time
There's nothing more annoying and discouraging to founders like me than hustle porn. The widespread notion that you have to devote any resources to your company to an extent of harmful self-exploitation is not only holding many women and mothers (or anyone with a healthy private life) back from starting their own business – it's also not a measure for potential success.
Just like Leankoala is providing #koalitytime for developpers and business owners by avoiding the hustle of web monitoring and testing with a smart SaaS, we have also managed to create this same sense of focus and efficiency as a modus operandi for the company.
All of us are self-organized to a maximum extent, focusing on outcomes instead of tasks and we're all taking dedicated time off. And it's important for us as a team to have everyone involved as their full selves but not absorbing all of their resources. This means we're respecting everyone's fluctuations in productivity and personal priorities while being committed to our business goals on a professional level.
Yes, you can have a decent level of free time and still start a successful tech business!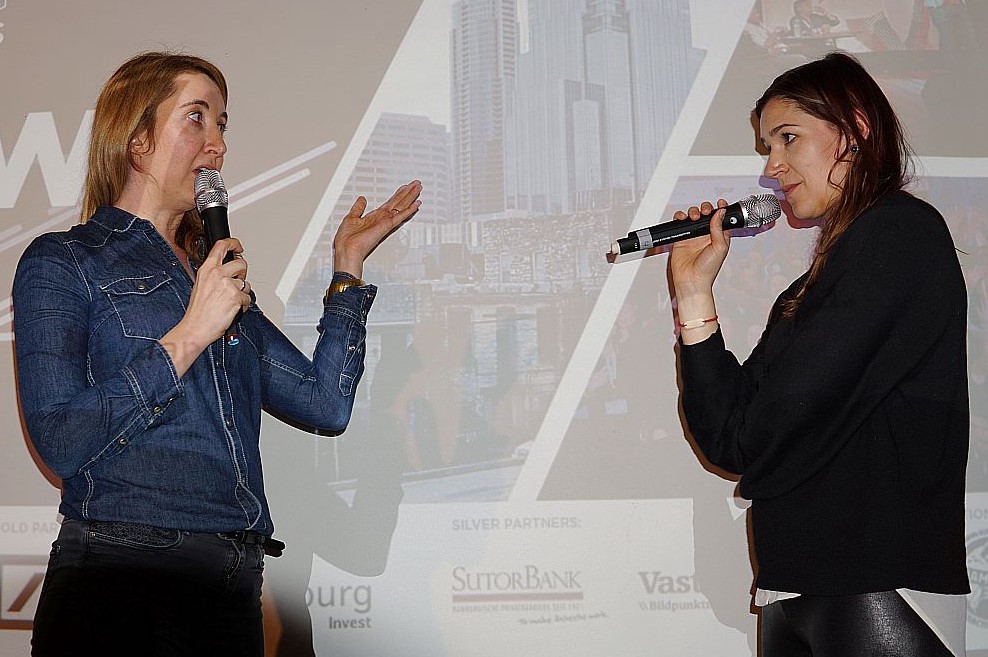 6. I hate being on stage
I hate being on stage, pitching our business or talking about being a female founder. Not because I am an introvert but simply because I suffer from stage-fright to an extent where it depletes my energy that would be better spent on other tasks. But as a co-founder that's my job and thanks to the incredible support of my network and my co-founder I am getting better at it. It's like a muscle you can train to overcome your inner "Schweinehund" (weaker self) but I would advice any shy founder to seek support to work on your stage personality. You don't have to become a limelight addict but don't let being an introvert or stage-fright prevent you from starting your own business.
7. I am not a developer
Being a developer helps immensely when starting a tech startup. With Nils being the perfect CTO to our company I am able to focus on everything else: operations, organizational development, sales, growth. My career in digital business development has nonetheless helped me become a successful founder in tech but you don't need to be a "techie". But you need to be an expert in your field and know the industry you're getting into. Nils and I had learned that the hard way with our first startup, where both of us knew exactly what we were doing from a technical and business perspective but failed to validate our product with our targets and industry. Just know good developers that you can integrate into your business and leverage your own skills.
8. I am a nice person
Nils and I believe in (startup) karma but the discourse around the startup ecosystem suggests that nice people will have a lot of friends but no business success (that tv show is called "Shark Tank" for a reason). One could easily be fooled into believing that "being too kind" is actually a thing and that you should change your attitude in order to not be taken advantage of in a business culture full of vultures. Yes, we also don't want to be a pushover but there's a difference between standing one's ground and being a *&§%. We've translated our belief in kindness into our business maxim and this attitude has contributed massively to our success so far. We're always happy to share knowledge, contacts or resources and aspire to be Hamburg's nicest startup. Being a nice person actually makes you a great and successful founder, trust me.
Anything you'd like to add to this story? We'd be delighted to hear more stories of female founders debunking the myths of why women in tech are still rare!
This article is a transcript of Steffie's talk at her local LeanIn circle, hence the publication in English for a change. 🙂